IDAX.pro SCAMMED crypto projects for up to 5,000,000 USD!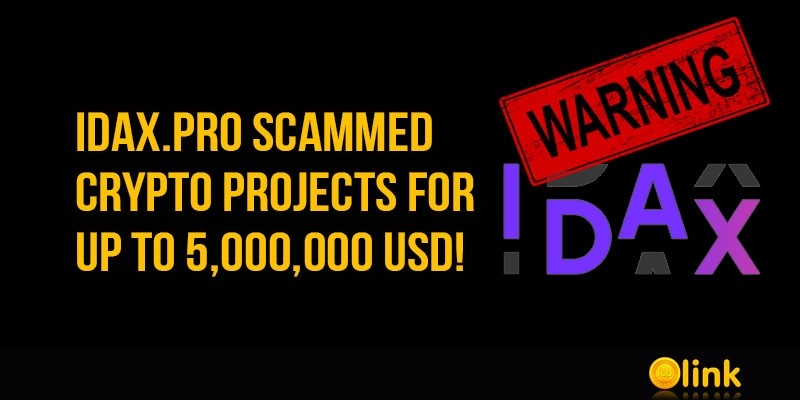 As many of you know, Crypto Market Ads (CMA) project had IEO on IDAX.pro exchange recently. First time it was canceled by IDAX.pro because we do not agreed on their terms (they called us hours before IEO, we have voice call recordings). They wanted to simulate all the sales in 1 hour time!


We tried to get refund, but unsuccessfully, they and our users pushed on us to do IEO anyway, to see what IDAX.pro will do. Note: we do not agreed on simulation.
So on June 17–18 we had IEO, which was simulated by IDAX.pro and we do not raised funds OR the funds raised were taken by IDAX.pro because we saw only 2 ETH in our account!
Long story short…
We got scammed by the IDAX.pro exchange for 10 BTC!
Many other projects that have been doing IEO on IDAX.pro recently have been scammed for even more - up to 30 BTC each (we have 8 projects with us, who got scammed as well).
As we are fighting fraud in crypto industry, this is field of our company and we are starting legal action against IDAX.pro to prosecute their criminal group through general prosecutor's office.
IDAX.pro is simulating investments for IEO projects — basically they raise anywhere from few hundred to few thousands dollars. IDAX simulates that project's raise million of dollars in an hour or two to attract new startups and scam them. It is all a big, coordinated fraud done by Chinese criminal group.
On May 16, 2019 IDAX becomes a member of CoinMarketCap Transparency DATA Alliance. LINK
This could also be the end of CoinMarketCap as they are working with scammers and their data is not reliable, it is mostly fake!
IDAX Has become a Member of CoinMarketCap Transparency DATA Alliance
Coinmarketcap.com is working together with scammer exchanges!
We have collected as much evidence of this as possible from:
Telegram chatting. Voice conference call. Proof posted below.

When we found out about this we asked for refund for weeks and we did not get anything back as they were willing to keep our BTC they scammed out of us.
We have started a group for projects that were scammed by IDAX for IEO fundraising to make this issue known in the whole crypto space!
Keep reading — evidence is below. Any new project out there that wants to do IEO, DO NOT DO IEO on IDAX! Chances are high that most exchanges practicing the same fraud!

Read 44. page about IDAX.pro fake volume: LINK

by Author
By accepting you will be accessing a service provided by a third-party external to https://www.icolink.com/