How Do Traditional Firms Start Using DApps? Answer from Co-Founder of Crowdholding Aleks Bozhinov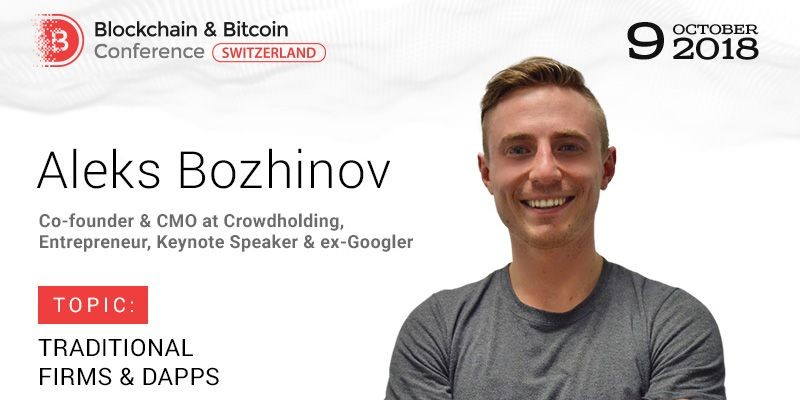 Traditional firms keep opening up DLT and integrating it into their operations – it helps to solve business challenges and make the work more effective. How else can DApps improve the work processes in traditional companies and how easy is the shift to decentralization?
The questions will be answered on October 9 at
Blockchain & Bitcoin Conference Switzerland
. Co-founder & Chief Marketing Officer at Crowdholding Aleks Bozhinov will present the DApps' advantages for businesses and
explain the process
of going to DLT.
Enter heading here...
Key points:
technological development and regulation of DApps;
how to prove DApps' business models;
how to persuade investors in the usability of DApps;
firms that have undergone a large-scale transformation to blockchain;
why non-blockchain firms are nervous to invest in blockchain.
Aleks Bozhinov is the entrepreneur, business coach and ICO advisor. He is one of the founders of Crowdholding – the platform for entrepreneurs' collaboration, where he currently acts as a Chief Marketing Officer. At the company, the expert has already built the right content and community management strategy that brought in thousands of users.
The specialist is also the marketing advisor at the Swiss freelancing DLT platform unitalentICO. Moreover, Bozhinov has a position of the crypto ambassador at the Open Source University, consulting on how to organise pre-ICO and ICO preparation and providing assistance with online media strategy.
The expert has an experience in working for Google as an Account Manager. Apart from that, he is a frequent speaker at events regarding the latest technologies and DLT.
Use a chance to meet with Aleks Bozhinov at the conference and learn how to implement DApps in your business!
By accepting you will be accessing a service provided by a third-party external to https://www.icolink.com/