TREZOR Cryptocurrency Wallet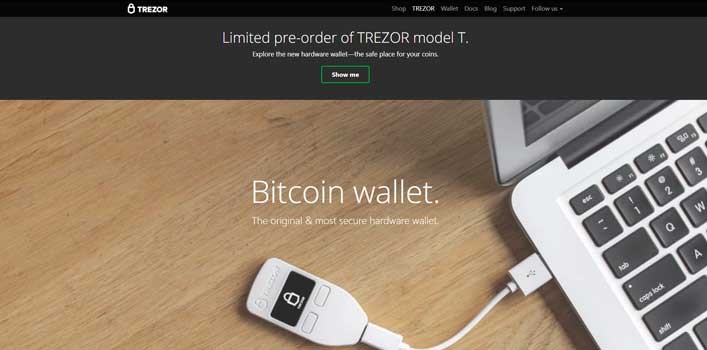 TREZOR - a physical hardware Wallet, independent of the Internet. It contains your secret keys, and the device "knows how" to sign transactions without connecting to the Internet. Even being an autonomous "cold" storage, the hardware Wallet is flexible when performing tasks - both offline and online. With it you can already spend bitcoins at any time. It can be attached to a key chain or worn in a pocket. As you can see, TREZOR allows you to store bitcoins off the network, and when you connect it to the computer, you send the necessary transaction.
USB connection of the hardware purse is called "limited", i.e. allowing to carry out only transactions in TREZOR or vice versa. One of the interesting chips is that TREZOR hardware wallets can be safely used even with computers infected with a virus.
Whether you're new to Bitcoin or already a security expert, TREZOR is a Digital Currency Hardware Wallet for everybody. The Trezor isn't just a bitcoin hardware wallet, you can now store Ether, Litecoin, Dash, ZCash, and Ethereum digital assets with your Trezor. Any ERC20 token can be stored on your Trezor hardware wallet such as FirstBlood, Edgeless, Augur...
With the Trezor wallet you can leave behind viruses and keyloggers. Forget about needing to do regular backups, reading encryption manuals, printing paper wallets, and making off-line storage. Next time you see another 10+ steps guide to secure your bitcoins, just skip reading it.
The Trezor is more than just a cryptocurrency hardware wallet, you can use it as a password manager, a 2-Factor authentication device, or protected SSH access to your servers.
Bitcoin is secure by design. All you need is a tool to use it without risk. All you need is your own TREZOR wallet.
Satoshi Labs releases a new Bitcoin hardware Wallet - Trezor Model T
Supported coins: BTC, LTC, NMC, DOGE, DASH, BCH, ZEC, ETH, ETC, ERC20
The safe place for your coins. Now evolved.
By accepting you will be accessing a service provided by a third-party external to https://www.icolink.com/